POMED Executive Director Interviewed by HuffPo Maghreb on Tunisia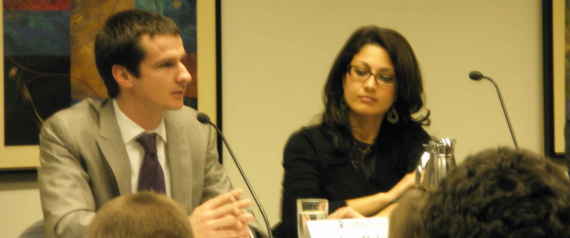 On August 22, 2016, POMED's Executive Director Stephen McInerney spoke to Huffington Post Maghreb about Tunisia's ongoing democratic transition. The full interview is available here in French, and an English translation is available below.
Executive Director of POMED: Tunisia is the best example of democracy in the Arab world
Tunisia is the exception of the Arab Spring and the result of a democratic transition that is a priority for POMED, Project on Middle East Democracy, a non-partisan, non-profit organization dedicated to analyzing the development of true democracies in the Middle East, explains Stephen McInerney, its Executive Director. On the subject of Tunisia, Stephen McInerney, Executive Director of POMED granted an exclusive interview to Huffpost Tunisia.
"In 2015, I went to Tunisia three times and it must be said that the security situation was critical and the threat prevailed. I am happy to witness continued improvement in security this year. There could be other attacks-I hope not- but I feel an imminent change in Tunisia" he declared.
Why is POMED interested in democracy in Tunisia?
"In the beginning, POMED was interested in four Arab Spring countries, Yemen, Egypt, Libya and Tunisia. The first three countries became very violent and because of that, it was no longer possible for us to follow the evolution of a democratic transition, in a climate of violence and conflict" he explains. "Tunisia is the only Arab Springs country where a democratic transition is possible, we think that what happens here in Tunisia is very important. POMED strongly believes in Tunisia, as the first Arab country to succeed in a democratic transition, and it is an example for the entire region."
"Youssef Chahed, a very interesting choice"
When asked about the designation of Youssef Chahed, the head of the government, Mr. McInerney regards Chahed as a very interesting choice but he can't say what the result will be because the government is still being formed. "I had the occasion to meet Youssef Chahed when he was Minister of Local Affairs. He reflects a good image but now that he is Prime Minister, he now finds himself in a much more difficult position. The whole government will have to be competent, not just Youssef Chahed. We will see."
The next government must, above all, fight corruption.
"I think that the most important thing that I would like to see in the next government is the determination to fight corruption. Lots of Tunisians complain of corruption and tell me that it is a real obstacle to development and scares away investors and it is time that things change." He added, "When we look at the former government, we saw it struggle to achieve real reforms on matters of fighting corruption so the next government must make it a priority and above all, have the courage to do so."
Tunisian Women at the center of change
"Tunisian women have an important role to play in the democratic transition, they already had an important role in the 2011 revolution. Through political parties and civil society they must continue to do so," he notes. He adds to that, "A large part of Tunisian leaders in power, in the government, in the ARP or in civil society are women and I think they should continue to urge that."
Trump or Clinton, which choice would be in favor of POMED's work?
"Whoever it may be, Hilary Clinton or Donald Trump that wins the election, our work will continue and our mission will continue in Tunisia. We will continue to urge American officials to support the democratic transition." "However, Hilary Clinton knows Tunisia, her experience as Secretary of State led her to visit Tunisia and has a certain familiarity with the country" he remarks.
Tunisians must be patient but…
"To protect their revolution, Tunisians must meet with political leaders and make their voices heard and do their best to keep leaders focused on the democratic transition." "The type of transition that Tunisia aspires to is difficult and it will take a lot of time; Tunisians must be patient but that doesn't mean sitting and watching, it will take pushing politicians and parties to respond to the demands of citizens" he concludes.
As a reminder, POMED wrote an open letter to President Barack Obama in July asking him to visit Tunisia. […] "The United States believes in Tunisia, we are invested in its success and will be a stable partner for them for years to come" Obama declared [during President Essebsi's 2015 visit to Washington].