Photo Credit: Habib Toumi
Minister of Interior Lt. General Shaikh Rashid bin Abdullah al-Khalifa said that torture was "banned by the constitution and was punishable under Bahraini law" and "Bahrain is committed to abiding by the relevant international conventions and agreements." He added that "those who made false allegations about torture would also be challenged by the law." Also, a Bahraini court sentenced eleven Shiite demonstrators "to five years in jail each for attacking police with iron rods and petrol bombs."
Brian Dooley, director of the Human Rights Defenders program at Human Rights First, commented on Britain's Human Rights and Democracy Report for 2013, saying that although it agreed with the U.S. assessment that there are "problems around impunity for Bahrain's security forces," Britain's criticism was "tepid" as they reported that "some areas of reform have been slower than we would have hoped." He commented that it is unclear "why Britain and the United States appear to be working against their long-term interests by supporting a system of government that encourages instability and threatens its own equities." He argues that "it's time for them to look beyond the short term and push for an inclusive, rights-based political settlement that …

Photo Credit: Reuters
Tunisia's National Constituent Assembly (NCA) adopted a law to set up a six-member judicial commission, which will "determine the constitutionality of new laws." Now that this commission has been created, the NCA will be able to move forward with the electoral law, each article of which will be voted on separately. The creation of the judicial commission came days after The Carter Center published a press release, calling for specific legislative actions to be taken in order to implement the human rights guarantees embedded in the constitution. Former U.S. President Jimmy Carter said, "What is critical now is to conduct a thorough revision of the legal framework to bring it into alignment with the constitution and ensure the full realization of the rights enshrined in the text. In addition, a provisional commission should be established in time to review the constitutionality of draft laws, especially the electoral legislation currently under discussion."
Meanwhile, following Prime Minister Mehdi Jomaa's trip to Washington, D.C., Marouen Achouri writes that the visit showcased U.S. economic and security support for Tunisia as well as a marked enthusiasm for Jomaa and his technocratic government. Achouri says, "[Jomaa] was hosted by US President Barack …

Photo Credit: The New York Times
Talal al-Barazi, governor of the Syrian city of Homs, one of the last rebel controlled cities, declared today that despite being "an insurgent held-war zone," the city is ripe for "relatively good elections." Over 220,000 people from the province of Homs have fled to neighboring Lebanon since the start of Syria's civil war. Additionally, Al Jazeera reported that, "Syrian army troops backed by pro-government militia members have entered rebel-held neighborhoods of Homs after laying siege to the districts for nearly two years." Anne Barnard reported that al-Barazi's optimism is being shared at the "highest levels in Damascus" where Syrian officials have declared that a presidential vote will be held within three months. The officials expect President Bashar al-Assad to win — even though, "for the first time in decades, there will in theory be an opponent on the ballot." In Syria, the campaign for Assad's second bid as president is already unofficially rolling in "a measure of Mr. Assad's growing confidence that he is wrapping up the war." Opponents of Assad say elections would be "absurd" amid a military crackdown that "has terrorized large segments of the country to suppress a movement for …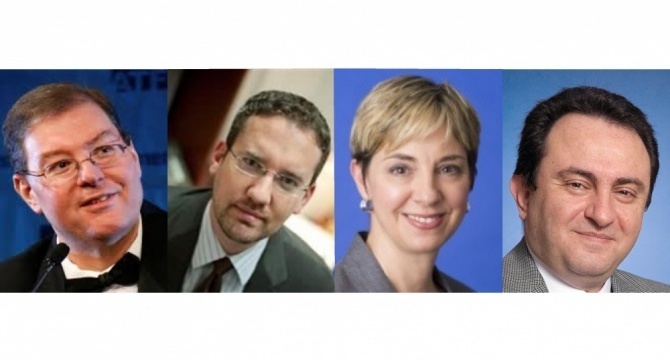 Photo Credit: American Task Force on Palestine
On Tuesday, April 15, the American Task Force on Palestine held a panel entitled, "The Status and Future of the Muslim Brotherhood." Michele Dunne, Senior Associate in the Middle East Program at The Carnegie Endowment for International Peace, William McCants, Fellow at the Saban Center for Middle East Policy, and Hassan Mneimneh, Senior Transatlantic Fellow for the Middle East and North Africa at the German Marshall Fund were panelists. Hussein Ibish, Senior Fellow at the American Task Force on Palestine moderated the event.
For full event notes keep reading or click here for the PDF.
Hussein Ibish began the panel with introductory remarks. He presented his observations of the Muslim Brotherhood in various countries across the world, proposing that perhaps today the epicenter of the Brotherhood is in Egypt. He asked the panelists to begin by responding to his observations of the Brotherhood across the region and asked them what is going on with the movement. Is the Brotherhood shaping up differently in each country that it has a presence?
Mneimneh responded first by describing the Brotherhood as being both "humbled" and "encouraged" by the events of the Arab …

Photo Credit: Tom Lantos Human Rights Commission
The Tom Lantos Human Rights Commission conducted a hearing entitled, "World Bank Lending and Human Rights" on Wednesday April 9. The hearing was chaired by Representative James P. McGovern (D-MA). Representatives Janice Shakowsky (D-IL) and David Cicilline (D-RI) also attended. The first panel included former Member of Congress and Chair of House Financial Services Committee Barney Frank. The second panel included Director for Business and Human Rights at Human Rights Watch Arvind Ganesan, President of the Association for Human Rights in Central Asia Nadejda Ataeva, Human Rights Attorney at the Chadian Association for the Promotion and Defense of Human Rights Delphine Djiraibe, and Coordinator of the Land Defense Program at the Fraternal Black Organization of Honduras Felix Valentine.
For full event notes continue reading or click here for the PDF.
Rep. James McGovern began by acknowledging that the World Bank is a vital source of economic support and has the power to change peoples' lives for the better or for the worse. He said that the purpose of the hearing was to ensure that the World Bank is a force of good and that the proper safeguards are in …